This data shows how profitable your business can be in developing online grocery delivery apps.
Developing an online mobile app by connecting with a grocery delivery app development company can help you gain more customers and generate good numbers in sales.
This post will help you decide how grocery delivery mobile app development can help your business grow.
Benefits Of Grocery Delivery Mobile App Development
1) Convenient and Time Saving
When you are planning to develop a grocery delivery app, it becomes convenient for your business, and it saves you time. Through the app, customers can shop online at their own time and convenience. As a business leader, you can provide an engaging and responsive mobile app that can make their shopping experience convenient and save their time by getting all their essential needs in one place.
In today's world, most of you are engaged in your busy schedule and you aren't able to manage enough time to collect your daily needs from a store. Through an app, you get the item delivered in a few minutes at your doorstep, thus making it convenient and time saving.
2) Personalize The App
The best thing about developing an app for your business is that you can personalize the app according to your business needs and users' requirements. Before creating an app, make sure that you analyze your business and make pointers of all the requirements you want.
On the other hand, you have to understand your users' demands and what they want from you. This entire process will help you to filter out things, and you can develop your grocery app well.
Top App Development Companies | The Best Mobile App Development Companies
How to choose the top mobile app development company? We have analyzed and compiled a list of the best mobile app development companies to help you find the right partner.
superbcompanies.com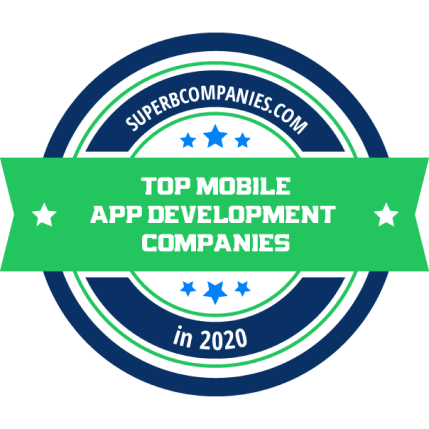 3) Extended Range Of Products
Since you are handling a grocery business, it becomes difficult for you to showcase your entire product to the customers. But, with online grocery apps, things are different. You get a great eCommerce platform where you can list all the products you sell in a business.
Thus, through an online grocery delivery mobile app, you can offer your customers an extended range of products through analyzing their buying history, the products that are in huge demands, etc.
4) Business Analytics
Business analytics is a tool that helps you to track all your business activities like sales, profit or loss, employee productivity, the current availability of stocks, and many other things. You can track these data easily through grocery mobile apps and make quick decisions regarding your online business.
When your business initially grows, you have to manage with huge data of your customers and employees, their choice, the problem they are facing and many more factors. Through a business analytics tool, it becomes easy for you to track all these things at a single place. Apart from this , you have an option to compare previous data with current data, to analyze things in a better manner.
5) Easy Payment Process
Your customers would have limited payment options when they visit your store physically. But by developing a grocery app, mobile app development firms integrate a safe payment gateway where you can offer multiple payment options to your customers.
Nowadays, we have seen sellers providing cashless transaction options to their customers for feasibility purposes. You can integrate different payment options for your users: however, ensure that all the payment gateways are safe and secure.
6) Improved Marketing Opportunity
With an online grocery delivery app, you have ample marketing opportunities to enhance your business. You can promote your products online through various mediums or run ads, affiliate mar, sponsorship, etc.
Following all these techniques will help you streamline your business growth and make a good profit out of your business.
Top App Marketing Agencies | Mobile Marketing Agencies List
Looking for the best mobile app marketing services? Check the list of leading mobile app marketing solution providers compiled by SuperbCompanies experts, based on client feedback and team expertise.
superbcompanies.com
Top Features Your Grocery Delivery Mobile App Should Have?
Developing a grocery delivery app for your business can provide you with various features like
1) Excellent UI/UX Design
Users prefer an app that is responsive, engaging, and has an excellent UI/UX design. When you develop a grocery delivery app, you must make the user interface good with responsive templates, engaging icons, and menus. Doing this will give your customers a user-friendly app experience.
To make this possible, you have to hire a good experienced UI/UX designer to help you frame a good UI/UX design of the grocery delivery mobile app.
UI/UX Design Agencies | Top UI/UX Design Services
The best UI UX design services providers create software products that are easy to use, intuitive and attractive. Check our list of leading UI UX design agencies, and hire a top UI UX design agency.
superbcompanies.com
2) Easy Order or Cancel Policy
One of the top features of online eCommerce apps is tracking the current orders and canceling them if not required. As a business owner, you will always want to provide a great shopping experience to the user. With a grocery app, you can provide your customers with easy order and cancellation policy to make their shopping hassle-free.
3) Track Your Customer's Orders
With an online platform, you can easily keep track of all your customers' orders. You can track the total number of purchased, sold, returned, and canceled products. Tracking all the data will help you to draft the estimated revenue you have generated through integrating grocery delivery apps into your business.
In the grocery mobile app, you can integrate live tracking features where your users can track their orders and delivery partner to get an update on their current orders.
4) Push Notification
In today's digital era, every business app should integrate push notifications to get a better response from users. With the help of push notifications, you can send updates, new product arrival, the latest offers and discounts, and many other schemes related to your business. It automatically appears on the user's notification bar without opening the app.
These are some of the quick features you can avail yourself of once you have developed a grocery delivery mobile app. Grocery App Development Cost
The app development cost depends upon various factors like app type, the platform you choose, the resources, and their expertise. Including all these factors, the app development cost is estimated to be between $50,000 and $2,00,000; however, it may increase based on your app requirements.
How Grocery Delivery Mobile App Development Can Help Your Business Grow?
As a business leader, you must plan things accordingly while developing a grocery delivery mobile app for your business. It is going to be your business assets, thus before developing the app you must start with research and finding a good resource for your development.
As you are transforming your business digitally, and developing a grocery delivery mobile app for your business it will help your business to grow. There are multiple ways through which you can streamline your business growth:
1) Attract More Customers
Most of the time, it has been seen that when you develop an app you have a higher probability of gaining more customers to your business. In this digital era, most customers often try online shopping as it is easy and it saves a lot of time and cost. Through a grocery delivery mobile app, you can assure that you can attract more customers.
2) Promote Your Product and Services Online
When you are running a business online, you have plenty of opportunity to promote your products and services online through an app or using other online mediums like social media platforms, advertisement, sponsorship, etc. Apart from this, to make the app popular among users, you can follow app store optimization (ASO) to get the app ranked at the top of the app store.
3) Boost Your Business ROI
Every business owner often thinks of achieving a higher ROI from their business. When you sell your product and services online you can boost your business ROI by providing a great UI/UX design, responsive template, and engaging app.
It will help drive huge sales, attract more customers, retain your existing customers, provide timely offers and discounts, etc. These are some of the pointers that can actually help you in boosting your business ROI.
4) Increase Business Operations
When you have an app for your business, you don't have to worry about the business operations as the mobile app can handle all of these. From tracking business sales to your employee operation all these activities can be tracked through a mobile app.
Wrapping Up
In this digital era, if you want to grow your business, you need to shift it online. You cannot compete in the current market unless you have some online assets. Hopefully, the pointers mentioned above have given you a clear idea about grocery apps and how they can help your business to grow. You can look at the grocery app development guide if you want to know more about the app.