Furthermore, there has been a rise in the demand for mobile apps from significant corporations and industries. There are several ways in which business owners may use apps to boost their return on investment (ROI) beyond just offering services and products to clients. Both brand awareness and customer insight can be increased with their help.
As more and more people create mobile apps to get a good returns, it's easy to see why this sector is so important to businesses.
This post will show you some of the most important things to consider when figuring out how a mobile app could help your business and customers.
Top 7 Business Benefits of Mobile App Development
1. Mobile Apps Enhance Relationships with Customers
To improve the level of connection between your firm and its customers, you need to develop a mobile application. You have access to a massive amount of information through a mobile application on your smartphone. Companies and consumers can now engage in two-way interaction due to commercial mobile app development industry advancements.
Customers in today's world have little patience for websites that load slowly. They must be able to gain access to your business with the touch of a single button. With the assistance of a specialized app, consumers may quickly acquire the solutions to their problems and the convenience they require. Many companies offer promotions as an incentive, and these deals can only be redeemed through their mobile applications. No method is more effective than these loyalty programs for attracting new consumers and retaining the ones you already have. A strong customer loyalty program is something that airlines, food chains, and retailers are offered. When taken together, these efforts will facilitate the development of long-lasting ties between you and your clientele.
Top App Development Companies | The Best Mobile App Development Companies
How to choose the top mobile app development company? We have analyzed and compiled a list of the best mobile app development companies to help you find the right partner.
superbcompanies.com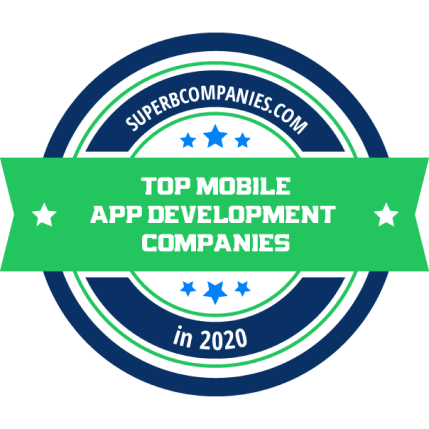 2. Increases Brand Awareness and Recognition
Create a mobile app for your business to expand your customer base and your company's visibility. You are the only one who can choose whether you want it to be cutting-edge, instructional, practical, or alarming. You are in the perfect position to achieve success right now. Develop a mobile app for your organization that your customers will adore and has an appealing design consistent with your business's identity.
As a business, you need to do everything in your power to get customers comfortable utilizing the products or services you offer. If your customers are actively engaged with your product or service through your mobile app, it will increase the likelihood that they will purchase from you. This concept is known as "effective frequency" in marketing and advertising. Before customers pay attention to your brand, the standard rule of thumb is that it needs to be presented to them twenty times before they do so.
3. Beat Larger Businesses
If you are a startup or a small business, you have no choice but to compete against established companies in your field. It is necessary to use all of the available resources to increase brand recognition and satisfy existing customers. The development of a mobile app may be of use in this regard. If you have an app, you can compete on the same level as more established enterprises, which is a significant advantage.
Even with a techy mobile app, a local restaurant can compete with giant food chains by offering mobile ordering in advance and using an app designed for smartphones. Customers use the restaurant's smartphone app to place their orders, and when they come to the store, they pick up their orders. In recent years, there has been a meteoric rise in the number of people following this trend.
4. Personalized App Creation That Boosts Your Products
One of the most important things about the e-commerce boom was how accessible any business, from giant corporations to small mom-and-pop shops, uses analytical information from website visitors. In the same way, both big and small companies need to use mobile operations to learn more about their regular users. On the other hand, mobile apps have advantages over simple websites in some situations, like tracking a store location if they want to share that information with your app.
In addition to the usual types of user feedback (complaints, discussions, and reviews), the app also collects and shares behavioral data, such as the most popular searches made by users, the most-read frequently asked questions, and the average amount of time spent on each runner. With the right analysis, you can use this data to improve user experience (UX) and make better products.
5. Optimize Your Level of Customer Engagement
Increasing your involvement is one of the best ways to enhance brand loyalty and income. Increases in client lifetime value, ROI, and other metrics are attainable if individuals contact your brand more often. Those who run mobile apps may want to add bells and whistles to promote user interaction. Segmented targeting is one of them; to do this, we'll need to define subsets of people and govern their content.
By categorizing your app's users, you can tailor your in-app communications to individual users, make more informed recommendations, and gain insight into your typical customer experience. Loyalty programs, discounts, and regular feature updates may assist promote engagement (innovation). In a similar spirit, focus on the details that will influence your clients (CX). Poor UI/UX design or limited accessibility might make it hard for users to stay using an app, even if it's helpful.
6. Make Use of The Different Social Media Platforms
People's engagement makes your brand more powerful. You'll make more money as more people use your software. Social networking is an excellent tool for improving user engagement, but you must advertise your app first. A significant social media effort is needed. After launching your app, execute social media campaigns on Facebook and YouTube to get noticed. Once you've hit a critical number of downloads, propose users sign up using their social network credentials. This makes future social media sharing painless.
You should also include social media buttons and other call-to-actions in your app. App users may be more likely to utilize your app if you offer them prizes. Some users will only contribute app content if they can engage in challenges or activities. Social media feeds in the app might boost user engagement. This is an additional service most development firms offer.
7. Exceptional Services ans Payment Solution
The capabilities of mobile apps can be adapted to fit the needs of specific markets. Run a service business such as a beauty salon, health center, online supermarket, etc. Your mobile app can help you attract and keep customers by scheduling appointments more simpler. This can help you bring in new customers and keep the customers you already have. Following that, reminders of meetings and updates to appointments can be given via push notifications.
At the moment, mobile payments are currently among the most often utilized ways of payment. By integrating in-app purchases or other methods of payment, any business, regardless of how large or small it is, can accept payments made with a credit card or debit card directly from its mobile app. The utilization of these payment channels is brisk, uncomplicated, and risk-free.
Conclusion
People and businesses can't imagine what life would be like today without mobile apps.
In 2023, mobile apps will bring in a total of $935 billion for businesses.
You decide how much your business fits into these numbers. It's only a matter of time before someone makes an app from scratch. Generations like the millennials and the boomers who know how to use technology well are getting older. More and more people will be able to work from home using apps on their phones as the world becomes more digital. Now is the time to get on board with global trends and set up your business for future success.
The team in charge of making mobile apps only create front-line software that meets users' needs and is based on market data. We plan every part of the user interface and experience, only build the most important features, test for bugs, and help with maintenance after the product is released.